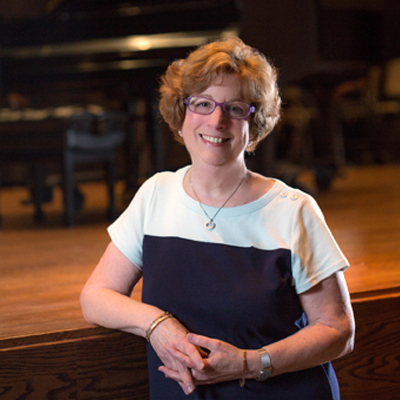 Music and psychological knowledge inform each other.
I offer informative, entertaining, and educational presentations to educators, business leaders, cultural institutions, arts organizations, social service organizations and mental health professionals.
While I am often invited to present on the topic of stage fright, I also offer keynote speeches and workshops illustrating how music and mental life are relevant in understanding and dealing with a variety of social and psychological issues.
I have gained a reputation for my multi-faceted approach to performance anxiety and the ability to explain complex concepts in understandable ways. My speeches are enlivened with audio-visuals and a lot of time for audience Q&A.


Click each of the topics below for a detailed description.
Performance anxiety can begin long before you walk on stage or into a classroom or important meeting. It can begin before you even walk or talk – or sing or dance or play a musical instrument!!! This presentation explores how and why life-long relationships and old feelings come alive inside you when you are in front of the public.  
Through stories and anecdotes, audio visual examples, and research studies, we will explore important milestones in life situations that may have led to your feelings about performing and being before a public.
Audiences will:
Learn about how your earliest experiences shape later attitudes and feelings about yourself and others

Discover how infancy is embedded in performance attitudes which may lead to self doubts and anxiety – or self confidence and enjoyment

Develop confidence in your abilities and yourself on and off stage

Appreciate the complexity of how the  mind works in order to better control your anxiety
It's no joke that you have to practice. Performers know that!! But what if you are prepared and practiced for your concert, speech, exam, interview and you still experience debilitating performance anxiety?  This presentation addresses the idea that practice does NOT make perfect and examines the detours and derailments that occur on the path to what "Carnegie Hall" represents as a metaphor to each individual who seeks public approval.  You will come to understand what trips you up in pursuit of your goals, what you do to yourself that is not in your best interest, and how your attitude affects your performance.
This presentation will help you discover:
How your attitude is as important as your aptitude and ability for successful performing

How attitudes are formed early in life that stay with you  when under pressure

What you can and cannot control and how to better manage your feelings

How you can  release yourself from your psychological prison of performance nerves

The benefits of good-enough practice vs. the quest for perfection
Enjoy the opportunity to participate in psychological coaching and advice, on stage, following your live performance or presentation. Dr. Nagel will highlight your concerns with you and offer ideas about ways to feel greater confidence and enjoyment when you are in public situations. This live Master Class format is unique and helpful both for the individual presenter/performer but also for the audience as well.
As a participant in this workshop, you will:
Discover how your thoughts can enhance or distract from your performance

Learn new perspectives that result in greater confidence when anxious

Develop a "jam plan" for performance mishaps

Learn how to focus and see yourself as successful
Personalized presentations can be designed according to the interests of your organization. Webinars and web-based presentations are also available.
Contact me today about engaging with you or your organization.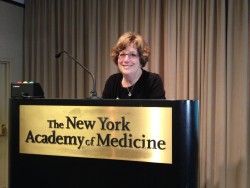 "Melodies of the Mind" presentation at Mt. Sinai Medical Center NY Academy of Medicine
CLICK HERE TO LISTEN TO THE MP3 RECORDING
"Managing Performance Anxiety" presentation at Ann Arbor American Guild of Organists
VIEW VIDEO OF PRESENTATION AT RIGHT
PRAISE FOR JULIE'S SPEAKING
"Julie Jaffee Nagel, Ph.D. has been steeped in musical performance all her life. Considered one of the leading experts on stage fright, she brings a blend of musical sophistication and psychological understanding to all problems of performing artists and musical educators."

Glen O. Gabbard, M.D. - Clinical Professor of Psychiatry, Baylor College of Medicine: Professor of Psychiatry, SUNY Upstate Medical University in Syracuse, Private Practice at Gabbard Center in Houston, TX

"It is a rare accomplishment as psychoanalyst and veteran musician that Julie Nagel straddles two complex and creative worlds with superior knowledge, skill, and experience. She succeeds not only in the consulting room,  but out in the world of music where her patients, readers and audiences are the enriched beneficiaries."

Mark D. Smaller Ph.D. - Past President, American Psychoanalytic Association.

"Using her talents and experiences as well as her extensive training in both music and psychology, Julie Jaffee Nagel brings depth and fresh insight to her work. Equally at home with the underlying issues of performance anxiety or in understanding a composer's life, she is a sensitive communicator both in her presentations in in her writing."

Stuart Feder, M.D. - Author: "Charles Ives: My Father's Song", "Gustav Mahler: A Life in Crisis", "Psychoanalytic Explorations in Music, Vol. I and II"

Julie Nagel's work aims at fundamental resolution of musicians' psychological problems through gaining insights to understand the origins of their conflict rather than simply dealing with superficial symptoms.

Alice Brandfonbrenner, M.D. - Medical Program for Performing Artists for the Rehabilitation Institute of Chicago

"Julie Nagel is a compelling lecturer, effortlessly presenting complicated issues in ways that everyone can easily relate and understand.  With her degrees in both music and psychology, she is eminently qualified to speak about the psychological issues that can have such an impact on a musician.  Her recent book, Melodies of the Mind, provides readers fascinating insights into the connections between music and the mind.  It's captivating reading!"

Gail Berenson - Professor Emerita of Piano, Ohio University School of Music; Past President, Music Teachers National Association. 
July, 2017 - National Conference on Keyboard - Chair: Round Table discussion on Answering Your Questions About Performance Anxiety, Lombard, Illinois.
Chair annual Discussion Group "Psychoanalytic Perspectives on Music" at the American Psychoanalytic Association National Meetings in New York. Topic: Role of Music in Addressing Shame, Prejudice, Violence, and Healing in Society - January, 2017
Co-Chairing a full day program at Music Teachers National Association Meetings (Co-Sponsored by American Psychoanalytic Association), Baltimore, Maryland on Mental and Physical Health of Musicians. Topic: Overcoming Obstacles - Keeping Musicians Physically and Emotionally Healthy - March, 2017
Mississippi Music Teachers State Conference, featured presenter - November, 2016
College Music Society Webinar, Challenges and Opportunities for College Professors Regarding Inclusion of Mental Health Courses in the Music Curriculum, October 14, 2016
Music Teachers National Association, Psychological and Physical Wellness, Las Vegas, NV - March, 2015
Lynn University, Residency Stage Fright, Boca Raton, Florida - February, 2015
American Psychoanalytic Association, Stage Fright and Shame Dynamics, New York City - January, 2015
Ohio State Music Teachers' Convention, Performance Anxiety - featured speaker, Wilmington, Ohio - October, 2014
Contemporary Freudian Society, "A Conversation Between Freud and Mozart", New York City - October, 2014
American Psychoanalytic Association, "TED" talk on Performance Anxiety, Chicago, Illinois - June, 2014
First Presbyterian Church, Performance Anxiety presentation, Ann Arbor, Michigan, April, 2014
Kempf Historic House, "Melodies of the Mind", Ann Arbor, Michigan - April 2014
Irving S. Gilmore Piano Competition Piano Keys Fest - Kalamazoo, Michigan - February, 2014
American Guild of Organists - Ann Arbor Chapter, Ann Arbor, Michigan - February, 2014
American Psychoanalytic Association - Discussant of paper by Paul Ornstein, M.D. - January, 2014
American Psychoanalytic Association - Chair, program on Psychoanalytic Perspectives on Music (guest presenters: Toby Perlman, Perlman Music Program and Dean Adam Meyer, Juilliard School) - January, 2014
Conversation between Mozart and Freud (original dialogue by Julie Jaffee Nagel, with Al Fallick and John alexander Sakelos, actors, Carol Siegel, Director Freud Museum, London and pianist, Louis Nagel) Ann Arbor, Michigan
The Juilliard School: Melodies of the Mind presentation and book signing, October 2013
William Alanson White Institute Conference: The Tritone in Gee, Officer Krupke - West Side Story, October 2013
Tennessee State Music Teachers' Conference: Melodies of the Mind and Stage*****Fright - Jackson, Tennessee. June 2013
National Conference on Piano Pedagogy: Presenter Master Class - Chicago, Illinois: July 2013
Association for Psychoanalytic Thought: An original conversation between Freud and Mozart (by Julie Jaffee Nagel) - The Steinway Gallery, Commerce Township, Michigan. Feb. 2013.
Chair of Psychoanalytic Perspectives on Music, American Psychoanalytic Association, winter meetings, New York 2013. Music and Human Development: Sunil Iyengar, Director of Research, National Endowment for the Arts, Presenter; Stuart Twemlow, M.D. Discussant.
Association for Psychoanalytic Thought: Presenter (with Louis Nagel) Melodies of the Mind.- Feb. 2, 2013, Steinway Gallery, Commerce Township, Michigan.
Michigan Psychoanalytic Council: Presenter, "Ambiguity in Gee, Officer Krupke " (West Side Story) - Feb. 17 2013. Womans' City Club, Ann Arbor, Michigan
Psychoanalytic Perspectives On Music: "Inner Landscapes: Martha Graham and Dance" (Presenter: Janet Eilber, Artistic Director, Martha Graham Dance Company)

Conference on Creativity: Performance Anxiety as a Painful Signature Style for a Musical Performer - Emory University, Atlanta, Georgia, April 2011
Conference on Art and Psychoanalysis: Psychodynamic and Musical Perspectives on Rage and Shame in Donizetti's Lucia di Lammermoor - Florence, Italy, May 2011
National Conference on Piano Pedagogy: Performance Anxiety: When is a Symptom More than a Symptom? - Chicago, Illinois, July 2011.
University of Michigan School of Music: "Mozart and Freud in Conversation and Performance" (with Louis Nagel, piano, Joel Sparks, actor). Jan. 27, 2011.
Michigan Psychoanalytic Society: "Ambiguity in West Side Story" - Dec. 2010.
International Piano Festival and Institute: Two presentations on "Understanding Performance Anxiety" - New Orleans, Louisiana, July 22 and 23, 2010.
Gertrude and Ernst Ticho Memorial Award/Lecture. American Psychoanalytic Association: Melodies in My Mind: The Polyphony of Mental Life - Washington, D.C., June 11, 2010
Trinity Arts Series: Melodies of the Mind: A Psychoanalytic and Musical Perspective on Mozart in 1778. Lecture and concert with Louis Nagel - New Orleans, Louisiana. Sponsored by a grant from the American Psychoanalytic Association and Ernst Svenson Fund for Psychoanalysis and the Arts at New Orleans/Birmingham Psychoanalytic Institute. Feb. 28, 2010.
American Psychoanalytic Association: Psychoanalytic Perspectives on Music: "The Musician and Psychoanalyst as Citizen", Chair. Joseph Polisi, President Juilliard, presenter; Steven Levy, Editor, JAPA, Discussant. January 14, 2010, New York