Managing Stage Fright: A Guide for Musicians and Music Teachers
Examining the topic from her interdisciplinary educational, theoretical, clinical, and personal perspectives, Nagel uses the music teacher/student relationship as a model for understanding the performance anxiety that affects musicians and non-musicians alike. Shedding new light on how the performer's emotional life is connected to every other facet of their life, Managing Stage Fright encourages a deeper understanding of anxiety when performing. The guide offers strategies for achieving performance confidence, emphasizing the relevance of mental health in teaching and performing.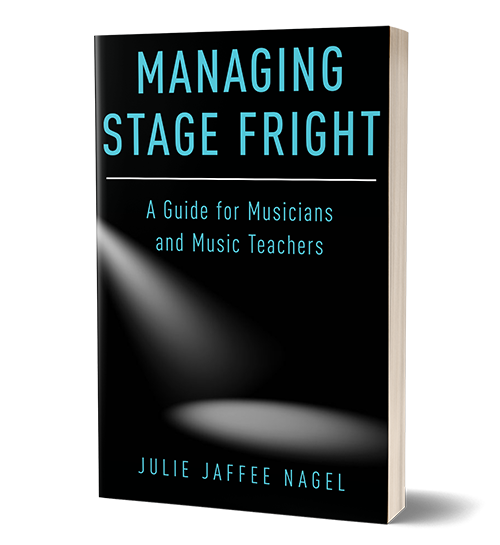 Through the practices of self-awareness outlined in the book, Nagel demonstrates that it is possible and desirable for teachers to assist students in developing the coping skills and attitudes that will allow them to not feel overwhelmed and powerless when they experience strong anxiety. Each chapter contains insights that help teachers recognize the symptoms-obvious, subtle, and puzzling-of the emotional grip of stage fright, while offering practical guidelines that empower teachers to empower their students. The psychological concepts offered, when added to pedagogical techniques, are invaluable in music performance and in a variety of life situations since, after all, music lessons are life lessons.
"Performance anxiety can be the bane of anyone who must stand and deliver the goods – be a speech, a play or a piece of music – live on stage. Nagel is herself a Julliard trained pianist who faced such terror that she changed careers. Now her job as a trained psychotherapist is to help men and women deal with such anxieties in ways that will enable them to perform better. This book offers a practical and practiced guide for anyone seeking help to perform better."
"Utilizing her unique qualifications as a performer, pedagogue and psychoanalyst, Nagel weaves essential psychological concepts, probing questions, insightful case studies, and practical suggestions into an absorbing, easy-to-read guidebook on stage fright for musicians. This book should be required reading for everyone who teaches music lessons, or, as Nagel considers them, life lessons."
"Julie Jaffee Nagel's impressively detailed and valuable analysis of stage fright provides an indispensable guide for teachers, students, and professional musicians concerned with this all too common and often intractable problem."
"Julie Jaffee Nagel has given us a beautifully organized and sympathetically written book that successfully addresses the issue of stage fright, a topic too often neglected, to the regret of the performer… Students, teachers, parents, and performers of all types would do well to read it."
"A most important book that addresses the elephant in the room for virtually all performers."
"It is rare to find someone so ideally-suited to author a book on the topic of managing stage fright than Julie Jaffee Nagel. A graduate of the Juilliard School, the University of Michigan and the Michigan Psychoanalytic Institute, Nagel is an experienced clinician, having been in private practice working with many individuals suffering from various degrees of performance anxiety. As a skilled pianist, she knows what it's like to perform and has taught piano. In this book, she adroitly combines her dual expertise, drawing on her considerable experiences as both a musician and a psychoanalyst to speak directly to her readers. She's been there, and she's one of us! This book is brimming with a wealth of information, great ideas, probing questions, valuable strategies, support and empathy for students and teachers alike. As a result of her own personal experiences, Nagel recognizes the unique role the music teacher plays in a student's life. This is her outstanding, distinctive and comprehensive contribution to help equip all teachers and students with the crucial information they need to enjoy a lifetime of performing."